Pensioner appalled by husband's Internet Explorer history
Thanks to recently acquired IT skills gleaned from a free internet course at her local Adult Education Centre, octogenarian Dorothy Ledger unwittingly stumbled across a trail of scatological-themed pornographic web sites left by her husband's surfing history.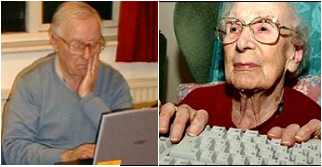 Coffin dodging pervert Syd Ledger and his (until recently) unsuspecting wife Dorothy, whose hands were unwittingly glued to the keyboard
.
"I was starting to feel left out, what with Syd spending so much time spidering the web thingamajig" a shaken Dorothy explained, "so I joined a 'Silver Surfer' course at the AE centre hoping it could be something that we could do together".
The course, which introduces the internet, email and basic IT literacy to the over 50s, includes a 'parental safeguards' section detailing how to check your internet cache to see what sites your children have visited. Armed with these new skills, Dorothy was also able to inspect their computer's temporary internet files folder, where she discovered the true nature of her husband's one handed surfing.
"I've no idea what felching or rimming are, and I don't want to know. Syd used to disappear into the computer room most afternoons, but I thought he was spending all that time watching videos of that nice Michael Bubbles. For a man his age, I think it's disgusting. I mean how does he think he'll be able to go dogging on a mobility scooter?"
Dorothy was also able to log into her husband's email account; Syd Ledger's inbox contained some promotional material from Saga FM, an email from Grandson Toby from his gap year in New Zealand, and an invitation to log onto www.ukfeces.com to sample 'The very best in online shitting'.
Defending his actions, Syd Ledger claimed that his wife's declining interest in sex over the last 30 years had forced him to seek out an 'eclectic and erotic' series of adult oriented web sites. Dorothy later revealed that "We haven't had sex since 1974. I went right off the idea when Syd asks me to defecate into one his socks."