Dawkins' grandchildren boycott pre-school nativity concert.
The Grandchildren of Richard Dawkins, the evolutionary biologist, outspoken atheist, secular humanist and popular science writer, are refusing to appear in their playgroup's nativity play.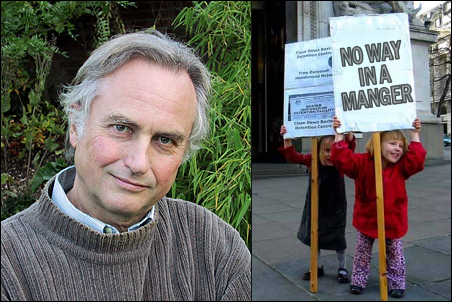 Dawkins and his grandchildren(right) make their feelings clear outside the entrance of the playgroup.
Furthermore, the two sisters, aged 5 and 3, are picketing the playground and encouraging parents, children and teachers to boycott what they describe as a "yuletide lame-fest".
Speaking between mouthfuls of roast beef flavoured Monster Munch , the older sibling explained to assembled press why she'd successfully auditioned for the role of 2nd shepherd, only to turn the part down.
"One of the aims of Religious Education could be to encourage children to reflect upon the deep questions of existence, to invite them to rise above the humdrum preoccupations of ordinary life. The dogma of the nativity is one of the many elements of the Judaeo-Christian culture which is absolutely accepted.
"Science can offer a vision of life and the universe which far outclasses any of the mutually contradictory faiths of the world's religions."
Asked why she wouldn't be appearing in the nativity , younger sister Eugenie said that she "didn't want to stand next to Alan Carter because he smells of poo."
Speaking from his Oxfordshire home yesterday, Dawkins said that he was "incredibly proud of Helena and Eugenie" and stressed that his grandchildren, who have already been dubbed as 'Darwin's Jack Russell Terriers', acted independently.
With teachers unable to force the children to attend the nativity, the sisters are excused from rehearsals. Helena, aged 5, plans to "re-inforce the impact of the banner protests with a sustained leafletting campaign" during afternoon playtime, whilst her younger sister will spend the time drawing pictures of doggies.